This week in music, the first graders learned their first two solfege tones: so and mi. We tossed around a ball to help us practice - when the ball was in the air everyone sang "so," and once it was caught everyone sang "mi." They also finished their "Lucy Locket" game from last week. Then, we took a pretend field trip to a musical kitchen, and all of the students became chefs to create an amazing soup! Ingredients were added by each child, and in between we performed the "Chop, Chop, Chippety Chop" chant.
The
second graders
finished writing new
lyrics
for "I'm a Nut." You can see videos of their performances by clicking
HERE
.
(second graders composing lyrics)
Once all students had the opportunity to perform, we started a new song called "Come and Follow Me." It has a tricky hand routine that we will continue to learn next week!
The third grade students learned a new musical style called calypso. We then sang "Four White Horses," a traditional Caribbean folk tune with awesome steel drum accompaniment! Once the song was mastered, we added a fun clapping routine. Quartets of students clap the hands of the person across from them (either high or low) then clap the hands of their neighbors to the sides. The routine repeats with regular hand claps in between each move, and alternating between high and low. It is a little tough to get the hang of it, so we will continue this activity next week!
The fourth graders completed their cup game this week. It was so much fun to change the tempo, and then try with our eyes closed! It was also their first official chorus rehearsal. We practiced our singing posture, and then did a breathing activity with the help of our two expanding balls, Bill and Ted. When the ball expands, we fill our lungs with air, and then release on a "tsss" sound as the ball contracts (just like our lungs!). It's important to control our air, which will help when we sing long phrases and high notes in our music!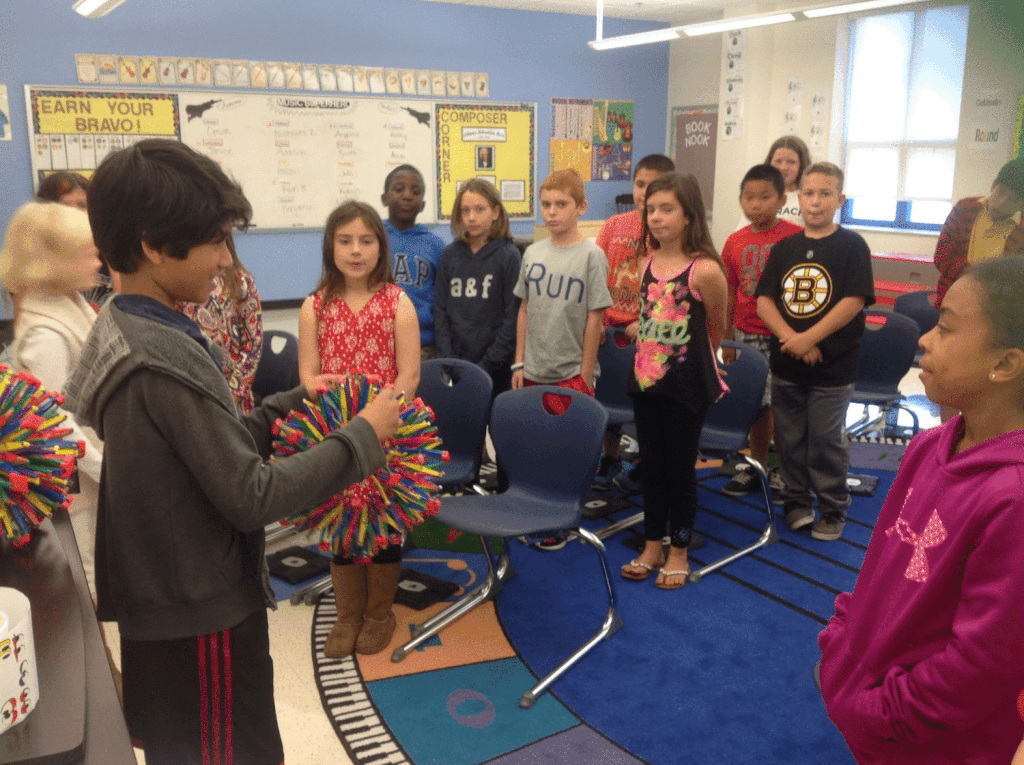 They also sang some fun warm-ups, then started two of the pieces for our winter concert: "Jingle, Jingle Jazz" and their fourth grade featured piece, "Once Upon a Wintertime."
The
fifth grade
students completed their challenging cup activity, which goes with Edward Grieg's "In the Hall of the Mountain King." We used a
traditional recording
of the piece, as well as a
dubstep version
! Of course, when it was time to clean up they wanted to create a cup pyramid!
Many of the students were at Camp Bourndale on Thursday and Friday, but we had an amazing group of 8 students from "Camp Eagle Fox" who helped us teach Mrs. York some of the fun games we play in music class!
We hope you have a relaxing weekend!