Happy Friday, everyone! With concerts and performances approaching, we have been working
so
hard to prepare! Mrs. Niu and I are so proud of all of the students and their dedication towards music.
First graders
continued their unit on
form
with a group project. Working with their peers, students composed an 8 beat "A" section, and an 8 beat "B" section using tas (quarter notes), ti-tis (eighth notes), and quarter rests. Using body percussion, they performed their song for the class in ABA form, making sure that the last part was identical to the first. Next week, we will transfer these compositions to hand percussion instruments!
In
second grade
, students discussed
audiation
. Audiation is a musical skill where you can hear music in your head that isn't being performed out loud. For example, you can probably very clearly "hear" your favorite song, even when you aren't listening to it. We sang an English tune called, "To Stop the Train," and added movement. We practiced audiating the song with a fun activity! The second graders played the "Radio Game," and also experimented with boomwhackers. Boomwhackers are pitched tubes that resonate when you hit them together, or on a surface. The students enjoyed playing rhythms and familiar tunes!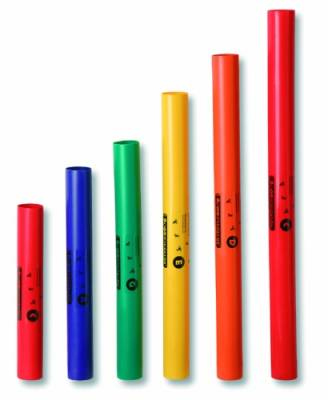 Boomwhackers
The third graders enjoyed their centers, which featured a new game this week: Instrument Bingo! Their recorder skills are getting more and more refined, and we are so happy with their hard work! They also started learning songs for the Memorial Day assembly. This assembly is happening in a few weeks, and it features all four third grade classes! It will be their moment to shine :) This week we sang "Grand Old Flag," which has a partner song called "We Want to Cheer." Next week, we will learn a new song!
Fourth and fifth graders had two combined chorus rehearsals this week. Students have been giving speaking parts, and we sang the music with instrumental accompaniment and dancing! We still have more work to do on Tuesday before next Wednesday's concert.
Concert information is as follows:
7:00pm at Memorial Cafetorium for Family and Friends
All students must report to the gym at 6:40pm. Band students will check in with chorus first, then report to the music room at 6:45pm.

Concert Attire: Black bottoms. Wear a plain colored shirt of your choice that represents one of the four elements: